Bom, voltei. Como todo dia, não é? Brincadeiras a parte eu vim fazer um Top 8 dos melhores episódios de Pokémon Best Wishes por mim. Ironia eu dizer melhores em uma saga não tão boa. Mas nesse Top 8 pode ter episódios que você gostou, odiou ou até mesmo um filler sem noção. Bora lá?
1: 660-

To the Unova Region! Zekrom's Shadow!!
Por incrível que pareça eu estou começando o Top 10(sem ordem de preferencia, ok?) com o primeiro episodio da Saga. Alias, se eu fizer um top com todas as sagas de Pokémon vai ter sempre o laboratório de algum professor na lista. Sabe, eu gosto muito desse episodio pelo fato de estar começando do zero, Trip estar vendo os iniciais pela primeira vez e sua mania de fotografar é bastante interessante. Ah, claro, eu não posso esquecer de mencionar da luta Pikachu e Snivy que foi fiasco total. Eu lembro que no trailer de apresentação da saga que a luta de ambos acontecia numa rua e essa luta foi em um campo em frente ao laboratório. Estranho...
2: 672-Minccino-Neat & Tidy
Sabe de uma coisa? Bianca pode ter aparecido um pouco ''tarde'' em Best Wishes, depois de 12 episódios. Apesar de ter uma leve semelhança com Barry, de Diamond e Pearl no sentido da pressa e na hora de batalhar. Ela é melhor personagem dessa temporada de pokémon. O único problema dos roteiristas não terem seguido a risca o problema com o Pai com quem ela tem uma leve rixa nos jogos. Tá, ele aparece em um futuro episodio e pronto, fica por isso mesmo. Uma coisa eu tenho certeza. Ou essa saga foi feita as pressas ou foi tudo planejado porcamente. Ok, vamos voltar ao episodio. O modo de introdução dela para encontrar Ash foi bem bacana. Eletricidade deveria ser o lema dela.
3: 669 - Rival Battle! Strong Opponent Frillish!!
Uma coisa que eu gosto em Pokémon são algumas batalhas e essa segunda batalha entre Ash e Trip foi razoavelmente boa. Foi o debut de Frillish e vimos que em alguns casos atacar diretamente não é uma boa ideia e Ash continua lerdo e burro ainda. Eu fico me perguntando: O palletiano perder para um novato deve ser culpa dele ou são os pokémon que são ruins? Sinceramente? Para mim são as duas coisas.
4:

717 - The Lonely Deino!
Iris e Cilan não podem ser os melhores personagens da atual temporada. Mas ninguém pode reclamar que episódios focados neles rendem boas historias. O episodio de apresentação do Deino me fez gostar da Iris e historias que envolvem ela e pokémon Dragão são bem mais interessantes do que Cilan e suas degustações sem sentido. Gostei da maneira que Iris se envolve com o Deino, que foi deixado no Day Care e espera pelo seu treinador voltar. Nesse episodio mostrou a Treinadora lidando com seus sentimentos e me gostar um pouco mais dela.
5: 724 -
Evolution Exchange Excitement!
Um episodio interessante sobre evoluções e com ele Bianca está de volta. Acho episódios de evoluções bem interessantes, principalmente quando se usa algum objeto ou alguma coisa. Como por exemplo tem que estar em um local x para evoluir um Nosepass ou o Shellder morder a cauda do Slowpoke para evoluir. Nesse episodio é mostrado pela primeira vez a evolução feita por troca. Tipo, Bianca trocou seu pokémon com Juniper e assim ambos evoluíram. Karrablast evolui para Escavalier, era de Juniper e ficou com Bianca no final. Não entendi essa parte. Apesar dos pesares foi um episodio interessante, tendo batalhas em duplas e mostrando um pouco dos pokémon engrenagem.
6:
728 - Cilan Takes Flight!
Cilan está longe de ser um novo Brock e um novo amigo de viagem interessante. Mas como eu disse ali em cima. Se derem um episodio somente para ele ou Iris eles conseguem se dar bem... ou quase. No caso do jovem degustador é raro ver um episodio interessante e a primeira vez que acertam em um episodio assim é a luta dele com Skyla. A jovem líder de Ginásio distribui insignias sem lutar com treinadores por pensar que eles são fortes demais e isso deixa Cilan irritado e a chama para uma batalha de 3 contra 3.
7:
745: Rocking the Virbank Gym! (Part 2)
O ultimo ginásio de Ash na Liga Unova que teve duas partes e essa batalha foi uma das melhores de Unova, na minha opinião. Teve ginásios bons, ruins e regulares. E foram poucos o que eu gostei de verdade. Queria mesmo ver uma luta no Gym Dragão, mas essa batalha valeu muito a pena. Apesar de Ash estar em vantagem usando 6 pokémon e a líder usar 3 foi coerente ele não ter vencido logo de cara, acho eu. Vimos aqui um Koffing e uma batalha de verdade desse pokémon. Eu olho para trás e vejo quanto Koffing do James era ruim de doer.
8:
752 - Power Battle! Iris VS Dawn!!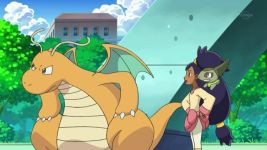 Com a chegada de Dawn em Unova prometia ser bem interessante, só que não. Ela voltou, apareceu e nesse meio tempo ficou apagada demais. Fui o único a notar isso? Com a chegada do Don Battle e com a recém captura de Dragonite deram uma pagada nela e o foco se voltou a falta de obediência do Dragão. Curti a batalha entre Iris e Dawn nesse episodio. O mais interessante é que os pokémon durões e desobedientes não caem fácil e querem mostrar pra todo mundo o quanto são fortes. O bom disso tudo foi o toque de Cyntia e dizendo que o grandão não confia 100% nela.